Can you repair a RAID controller?
Yes, you can repair a RAID controller.
The simple answer is; Yes, you can repair a RAID controller.  But before we get into the nuts and bolts.  What actually is a RAID controller and where do they come from?
What is a RAID Controller?
The RAID controller is a piece of hardware that sits within a Storage Array of Hard Drives.  It manages the distribution of files and data across multiple hard drives so that the data is protected to increase performance and storage capacity.  There are many RAID configurations, all with their own benefits, you can read about it on the Gartner Glossary here, it's too complex for now.
RAID Controllers can vary hugely in cost and performance depending on their application.  Departmental or desktop solutions (NAS – Network attached Storage) could cost as low as just a few hundred pounds. However, enterprise-level Storage Arrays (SAN – Storage area network), typically used in tier-one data centres can cost hundreds of thousands.
The many manufacturers of Storage Arrays.
There are many manufacturers of Storage Arrays and a number of the large OEMs, like HPE, Fujitsu, Quantum and Dell with their MD Series have remarketed solutions created by other lesser know vendors, such as Dot Hill and Xyratex.  OEMs have also acquired vendors, such as; EqualLogic, Compellent & 3PAR to add them to their portfolios.
Who can repair a RAID Controller?
As we've discussed, it's easy to see that there's a huge variety of Storage Array Solutions, each with its own RAID controllers and configurations.
So, when it comes to repairing, it's very much a specialist activity.  As with any piece of computer hardware, faults could be hardware defects or corrupt software/firmware.  Fault debugging can take time and may well include PCB rework and repair to a component level.  It's imperative you have access to the appropriate Storage Array test-beds to provide full in situ checks to confirm full and correct operation.
As you can appreciate with this somewhat minefield, it's rather fortunate that Gentronics Solutions does have the in-house repair centre with the capability of servicing the widest range of RAID controllers, including; NetApp, IBM, Dot Hill (Quantum, Fujitsu, HP MSA, Dell MD Series), HP 3PAR & EVA, Dell EqualLogic, Dell EMC and Nexsan to name a few.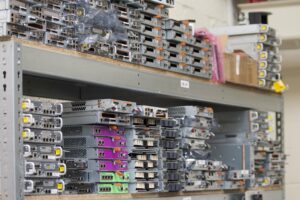 Obviously, a Storage Array with a defective RAID controller can be a catastrophic event.  At Gentronics, we do have good/tested stock on the shelf ready to supply or provide an advance-exchange repair.
If you would like further assistance; please contact us or click here to find out more.